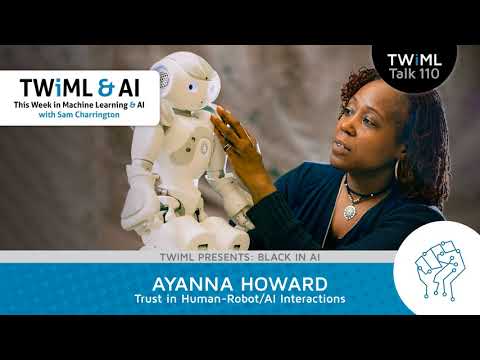 In this episode, the third in our Black in AI series, I speak with Ayanna Howard, Chair of the Interactive School of Computing at Georgia Tech.
Ayanna joined me for a lively discussion about her work in the field of human-robot interaction. We dig deep into a couple of major areas she's active in that have significant implications for the way we design and use artificial intelligence, namly pediatric robotics and human-robot trust. That latter bit is particularly interesting, and Ayanna provides a really interesting overview of a few of her experiments, including a simulation of an emergency situation, where, well, I don't want to spoil it, but let's just say as the actual intelligent beings, we need to make some better decisions. Enjoy!
Are you looking forward to the role AI will play in your life, or in your children's lives? Or, are you afraid of what's to come, and the changes AI will bring? Or, maybe you're skeptical, and don't think we'll ever really achieve enough with AI to make a difference?
As a TWiML listener, you probably have an opinion on the role AI will play in our lives, and we want to hear your take. Sharing your thoughts takes two minutes, can be done from anywhere, and qualifies you to win some great prizes. So hit pause, and jump on over twimlai.com/myai right now to share or learn more.
The notes for this show can be found at https://twimlai.com/talk/108.
For complete contest details, visit https://twimlai.com/myaicontest.
For complete series details, visit https://twimlai.com/blackinai2018.
Subscribe!
iTunes ➙ https://itunes.apple.com/us/podcast/t…
Soundcloud ➙ https://soundcloud.com/twiml
Google Play ➙ http://bit.ly/2lrWlJZ
Stitcher ➙ http://www.stitcher.com/s?fid=92079&r…
RSS ➙ https://twimlai.com/feed
Subscribe to our newsletter! ➙ https://twimlai.com/newsletter
Lets Connect!
Twimlai.com ➙ https://twimlai.com/contact
Twitter ➙ https://twitter.com/twimlai
Facebook ➙ https://Facebook.com/Twimlai
Medium ➙ https://medium.com/this-week-in-machi…